Your smile is an important part of making a good first impression. That makes it worth investing in. Most people notice your smile first, and it can be your most memorable feature. If your teeth are not as white as they used to be, or if they are chipped, cracked, or stained, you may not be making the lasting impression you desire. Dental veneers are often used to deal with these types of cosmetic issues.
What are dental veneers?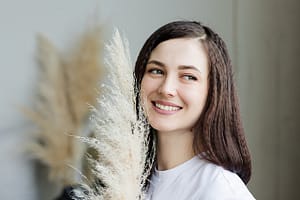 Dental veneers are custom-made, thin shells that are placed on the fronts of your teeth. The application process is similar to fingernail appliques. When veneers are properly cared for, they can last for decades. The material is tinted so that they give you the best shade of white that matches your complexion. Recent advancements in dentistry allow veneers to have the same translucent property as real teeth, giving them a more natural look. Dental veneers are an option for people who need more correction than whitening has to offer.
What issues can dental veneers fix?
Dr. Roberson often recommends using veneers to restore teeth that are broken, chipped, or cracked. If you have rough spots caused by wear and tear to the enamel, they are a good option as well. However, if an entire tooth is worn out, he may suggest dental crowns instead. Other than physical damage, there are a few other ways that veneers can hide imperfections in the shape or condition of your teeth.
Stained or Discolored Teeth.

In most cases, professional teeth whitening can get rid of stains on your teeth. But if the discoloration is deep, veneers may be the better option. Since they work as covers, they can camouflage even badly stained teeth.

Misshapen Teeth.

Teeth can be pointed or some other irregular shape. Maybe you have a tooth that appears much smaller than your other teeth. Dental veneers are an excellent quick-fix for shape or size-related flaws. Dr. Roberson can mold the thin shells in a way that they correct these aesthetic issues. Your teeth will appear to be the same in shape and size and in alignment.

Small Gaps Between Teeth.

Small gaps affecting upper or lower front teeth are called diastemas. They are not a health concern, but they can cause teeth to shift or move in unwanted ways. When teeth move, it's easier for them to become misaligned. This can cause a bad bite which can increase your risk for tooth decay. Dental veneers are used to "fill in" these gaps.
The Difference Between Porcelain Veneers and Composite Resin Veneers
The two most common materials used to make veneers are porcelain and resin. Your Birmingham dentist can help you decide which is the best for your situation. Here's a look at the key differences.
Composite Resin

veneers are made from the same materials used for fillings and dental bonding. It's made up of small particles of a hard filler which makes it soft and easy to form. This is why the dentist can shape and mold them to fit your teeth. Most veneers are made in the dentist's office. That often allows for veneers to be fitted and placed in one visit. Resin veneers require minimal etching on the surface of the teeth. This process helps the thin shell adhere to teeth better.

Porcelain Veneers

also bond to the tooth's surface. However, they tend to look more like your natural teeth. Because of their more natural look, they are often the most desirable choice. Porcelain is also more durable than composite resin. They may last as much as 20 years longer. Porcelain is also more stain-resistant than resin. However, they do take longer to place. The entire process usually takes two to three weeks to complete. While you wait, you'll be given a temporary veneer to cover and protect your tooth.
What should I expect from the veneer procedure?
There are two techniques used to place dental veneers direct or indirect. Most of the time, composite resin veneers are placed using the direct technique, and porcelain is placed by an indirect technique. The direct technique is done in a single visit. The tooth is prepared by cleaning and etching the surface. The dentist uses bonding materials to ensure the resin will adhere to the tooth. Once the veneer is placed, it will be cured with a special light. This helps activate the bonding material, so it hardens. Then, you go back to work, school, home, or play!
The indirect technique takes a little longer and will require more than one visit to Dr. Roberson's dental office. During the first visit, he will make molds of your teeth. He will prepare the surface of the tooth and place a temporary veneer on top. Once the molds have been sent to the lab, the veneers will be fabricated. In two to three weeks, you'll get a call from Roberson Dental telling you to come in for permanent placement.
How much do veneers cost?
Several factors go into the cost of veneers, so it can vary from patient to patient. The final price depends on the number of veneers you need, the condition of your teeth, and which material you want to choose for the veneers. It can also depend on the number of visits you'll need to complete the process. Composite resin veneers are less expensive than porcelain. You can think about them as a long-term investment as they last for many years with proper care.
Interested in Dental Veneers?
Are you interested in learning more about veneers and if they are right for you? Take a minute to fill out this online form for a Complimentary Cosmetic Consultation. A Roberson Dental treatment coordinator will contact you to schedule your visit with Dr. Roberson. We look forward to seeing you!