Invisalign from Roberson Dental
Metal braces are something many people avoid, despite wanting straighter and more attractive teeth.
That's why, at Roberson Dental, we offer Invisaligns, a clear plastic aligner that helps move teeth to their correct position without the appearance or feeling of metal braces.
What Is Invisalign?
Invisalign is a system of clear, removable plastic trays that you wear on your teeth to help slowly reposition them. These are custom created by a lab using X-rays and impressions to fit your teeth.  Using each tray in the prescribed order slowly shifts your teeth into proper position.
At your complimentary Invisaligns consultation, Dr. Roberson will answer all of your questions about the process, and even show you a virtual version of how your smile will look when  treatment is complete.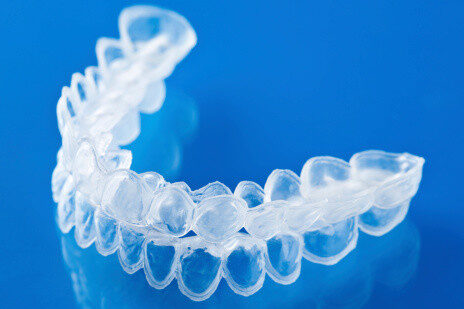 Why Choose Invisalign?
There are many reasons Invisaligns is considered a great choice over metal braces:
You can eat or drink whatever you like because Invisaligns is removable as needed.
It is much easier to maintain good oral hygiene than with braces.
You don't have to make as frequent visits for adjustments on how treatment is proceeding.
You are able to remove the Invisaligns trays for special events.
Treatment is invisible to others.
How Does the Treatment Work?
During the time you have your aligners, you'll need to wear them for as much of the day and night as you can, usually only removing them to eat or brush your teeth. Each tray is worn for about two weeks. You will want to visit Roberson Dental about every six weeks to have the progress of treatment monitored. While your unique treatment will be different from anyone else, most patients will use 18-30 aligner trays to reach full correction, which typically takes about 15 months for the entire treatment to be completed.
As your trusted Birmingham dentists, Drs. Darrell and John Roberson are always ready to help you (and others) fall in love with your smile again. Contact our team today to learn more about invisalign aligner in Birmingham AL, also serve surrounding areas
Call (205) 871-2838
or fill out the online form to
Hours
Monday: 7:30am – 4:00pm
Tuesday: 7:30am – 4:00pm
Wednesday: 7:30am – 4:00pm
Thursday: 7:30am – 3:00pm
Friday: Closed
Saturday: Closed
Sunday: Closed
** Fridays are administrative work days for Roberson Dental.