Oral cancer is far more common than most people realize. The American Cancer Society predicts that 34,000 people will receive a new diagnosis of oral cancer this year alone.
Fortunately, the disease is highly responsive to treatment in the early stages, which is why the Roberson Dental team ensures that its patients receive a thorough oral cancer screening at every regular cleaning and examination.
Dr. Roberson, your Birmingham dentist, is your first and best line of defense when it comes to detecting this disease.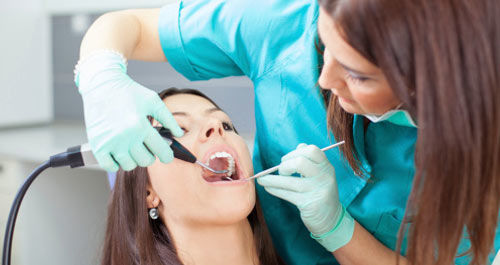 Understanding the Risk Factors Associated with Oral Cancer
Some risk factors with oral cancer are controllable, but your likelihood of developing the disease is also based on your age and gender. Men are twice as likely as women to develop both oral cancer and oropharyngeal cancer, which occurs in the middle section of the throat. People aged over 55 also have a higher risk, with the average age at diagnosis being 62.
More controllable risk factors include:
Frequent exposure to ultraviolet light
A diet low in fruits and vegetables
Smoking cigarettes, chewing tobacco, or using snuff
Heavy use of alcohol
Using alcohol and tobacco at the same time
Contracting the Human Papilloma Virus (HPV) also increases your likelihood of developing oral cancer. One fourth of patients with oral cancer also have HPV. People can spread more than 100 strains of HPV through various types of skin-to-skin contact.
The Benefits of Oral Cancer Screening in Birmingham
Your risks can also increase if you take prescription drugs to suppress your immune system, like those that are prescribed to prevent rejection of a transplanted organ, or if you have an autoimmune disorder. Be sure to let your Roberson Dental team know if either of these situations applies to you.
Anyone can develop oral cancer, whether they meet certain risks or not. While the chances are good you do not have oral cancer, why not let us help you gain peace of mind by an oral cancer screening at your regular check up? It's but one more excellent reason to schedule your next examination and oral cancer screening with Dr. Roberson. Our Birmingham team is committed to helping you enjoy your best oral and physical health!
If you would like more information about the dental procedures, give us a call at (205) 871-2838 and to arrange your first (or next) visit!
Dr. Roberson and our entire team look forward to your next visit at Roberson Dental.
HOURS
Mon, Tue, Wed: 7:30am – 4:00pm
Thurs: 7:30am – 3:00pm
Fri, Sat, Sun: Closed
** Fridays are administrative work days for Roberson Dental.
Call (205) 871-2838
or fill out the online form to